I was born in Nebraska City, Nebraska, a town of about seven thousand, in 1941.

The town formed my first ideas of success, based on the the store owners I clerked for and the doctors and dentists I met in town. Many of these small-business owners who employed me took it upon themselves not just to train the young people who worked for them to do their tasks correctly but also to help shape their character.
I was eight. In the summer, my mother would pack me a lunch in a sack and I was free to walk to the park or to a place in the woods that was good for playing and fishing. At the same time, I was aware that many adults in town knew who I was and would report inappropriate behavior back to my mother. That experience of great freedom plus responsibility for my own actions was the perfect starting place for a young  entrepreneur.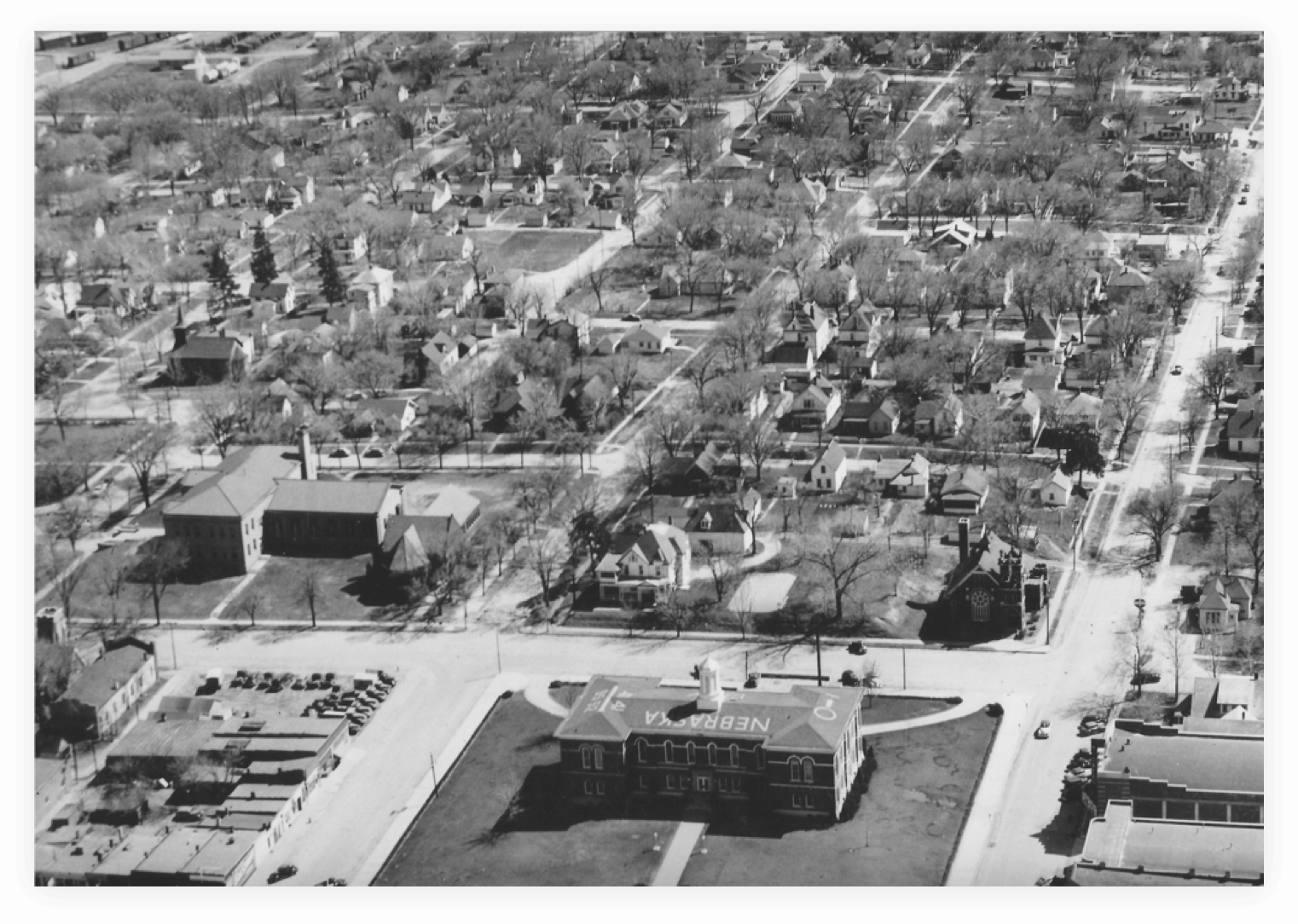 Nebraska City From Above, 1949

Marlene Volkmer & Me in our St. Bernard's Academy yearbook photos. We met in high school and got married in 1963, when we were each in college. Marlene was the stronger student, but I was ambitious and willing to work as hard as necessary to succeed.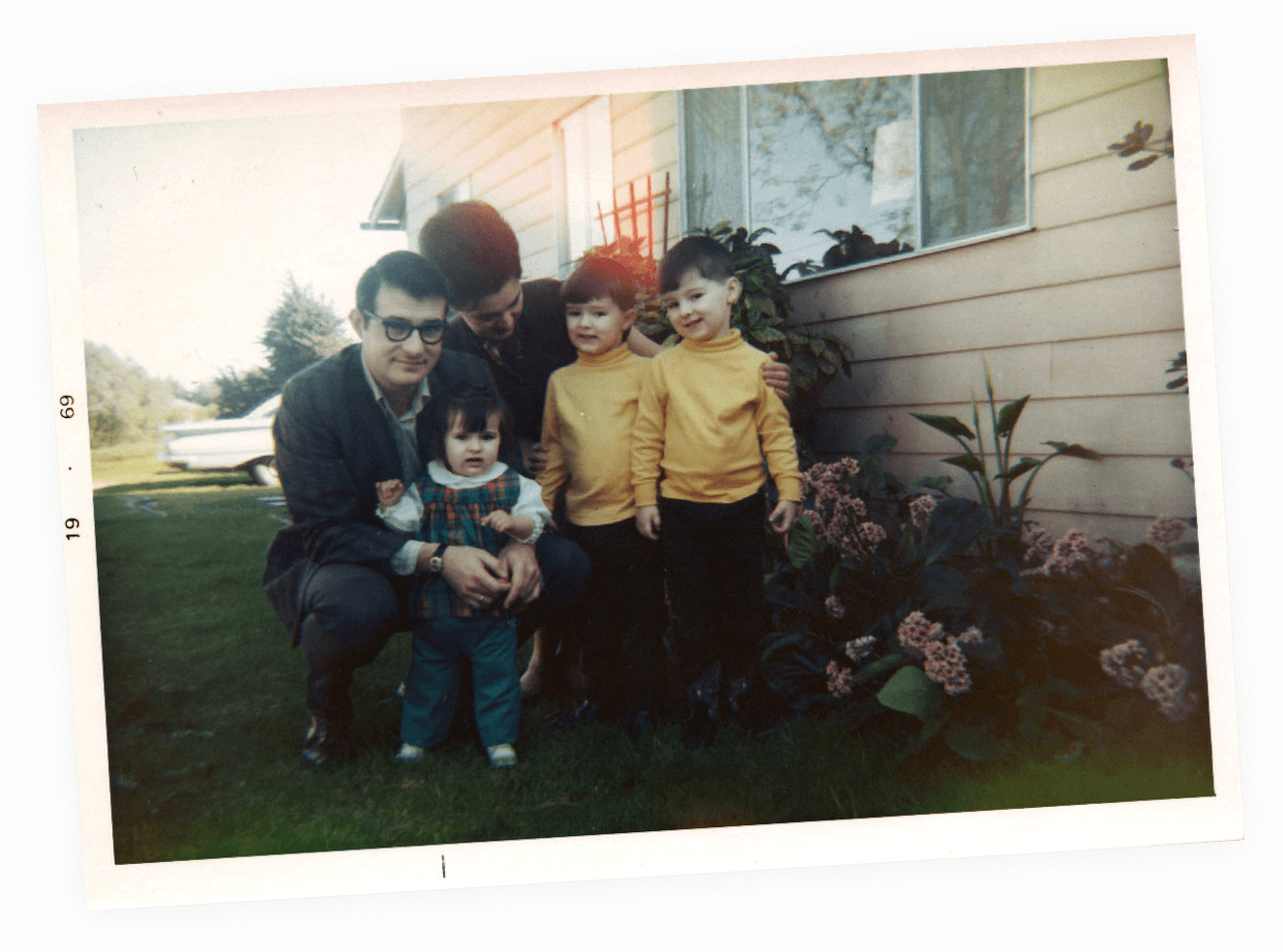 Marlene and me with our growing family back in Nebraska in 1969, after I completed the Dean Witter training program and became a stockbroker. Pete and Tom are dressed like twins; Laura was one. We were visiting someone out in the country who had the money to buy film for photos. I had money for only one nonessential, and that was beer.
In 1969, I returned with my family to Omaha, Nebraska to begin work as a stockbroker. One night, with our friends the Regans, we attended a performance of Fiddler on the Roof, then came home, put the soundtrack album on the turntable and had a few drinks. I improvised a costume with a red baseball cap for Tevye's cap and a tan sash around the waist to be his prayer shawl. (Note the purple pants I must have bought in San Francisco, shortly after the Summer of Love.) I danced and sang along with Tevye to "If I Were a Rich Man," feeling proud of my new career and optimistic about my future riches, but America was in for two long bear markets. It was a terrible time to become a stockbroker.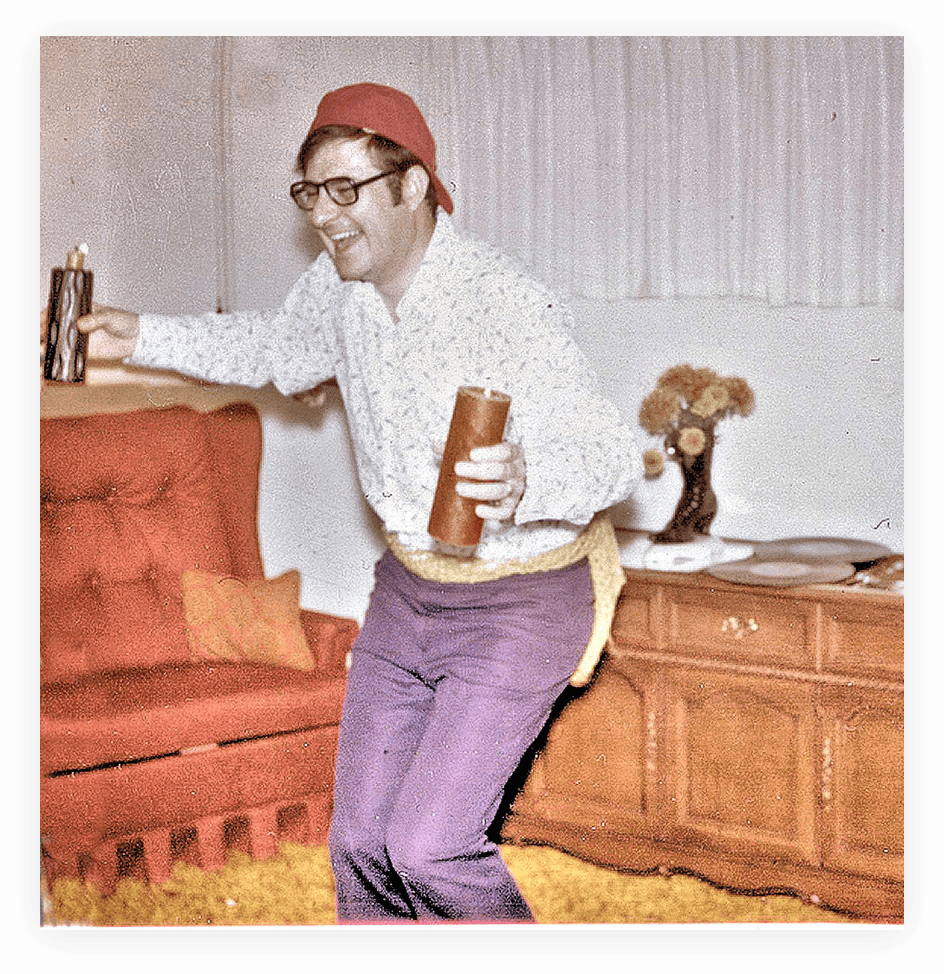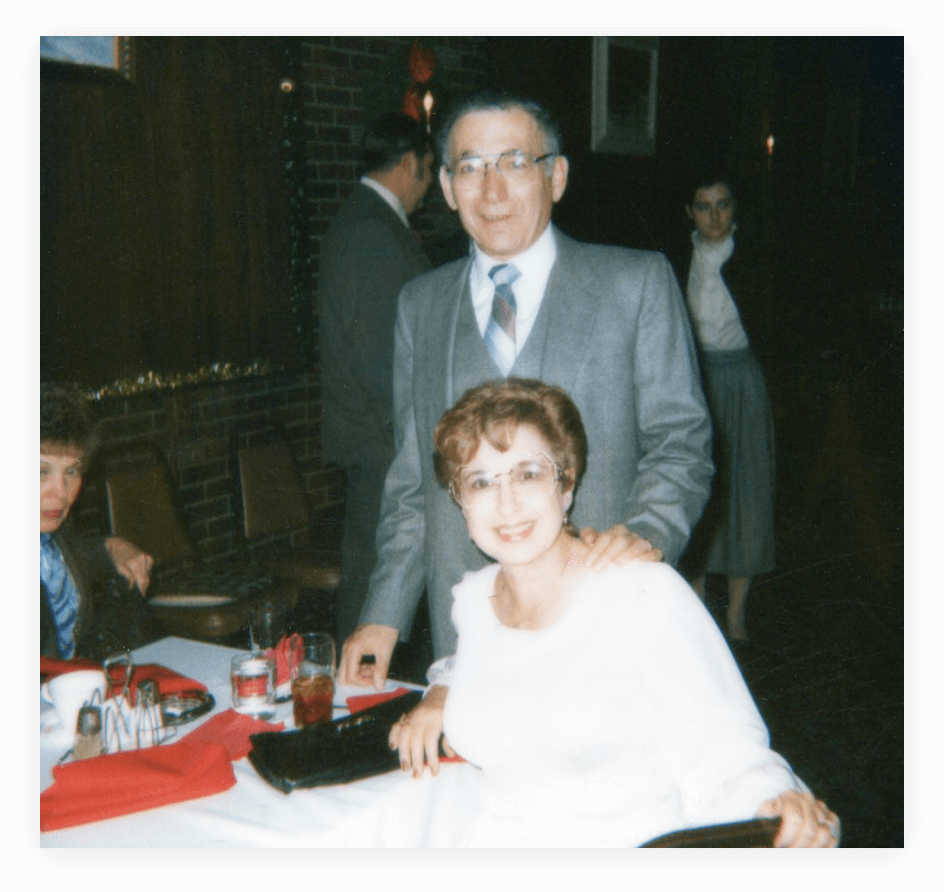 We worked so hard in the 1970s and 1980s and watched our pennies so closely that no one took any photographs at work. Also, I couldn't afford the film. Someone did manage to take this photograph of Bob Perelman, my first partner and mentor, and his wife Betty, who worked with us, at a Christmas party in 1985, ten years after we first founded the business. The party was at Eddie's Restaurant, run by my uncle Eddie Galas in South Omaha.
Celebrating Challenges Overcome
Working such long hours under so much pressure, we relied on our Friday evenings out for drinks and our parties to let off steam and give everyone the chance to share and celebrate the challenges we had overcome. A highlight of holiday and birthday parties was the gag gifts that Marlene would give people. Here Dave Kellogg, my partner and the creator of our first computer system, wears a fire chief's hat at our Spring Party in 1983.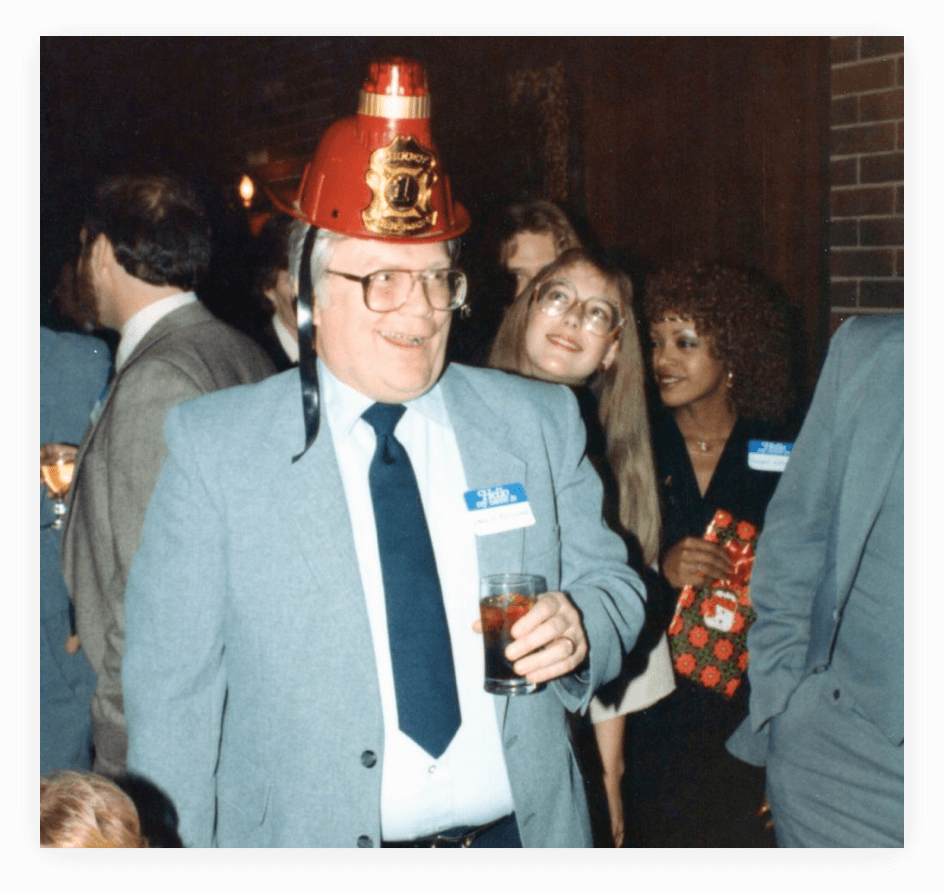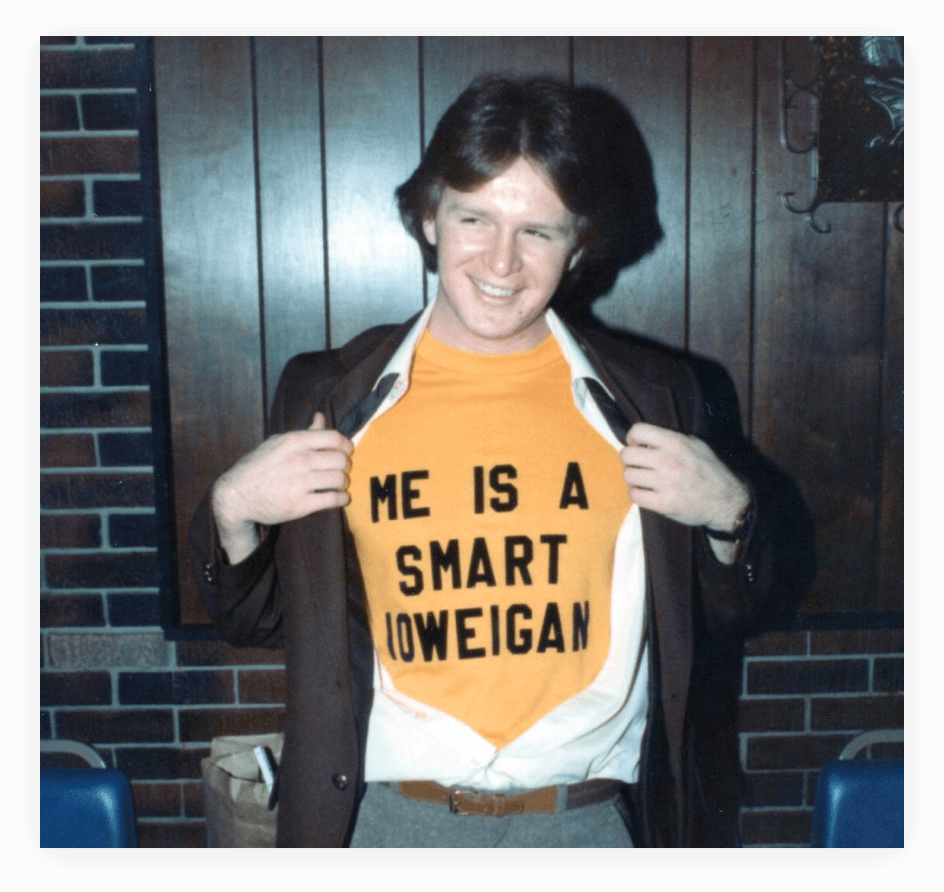 Also at the Spring Party in 1983, employee Todd Burbridge shows off the t-shirt Marlene had made for him, to tease him about his supposedly inferior intelligence on account of his being from Iowa and not Nebraska. Sharing these personalized gifts along with the cakes Marlene would bake for birthdays and the drinks I enjoyed buying my employees on Friday nights was remarkably important to people. They felt recognized and remembered. They felt like family. We needed that kind of closeness if we were going to spend so much of our time working together.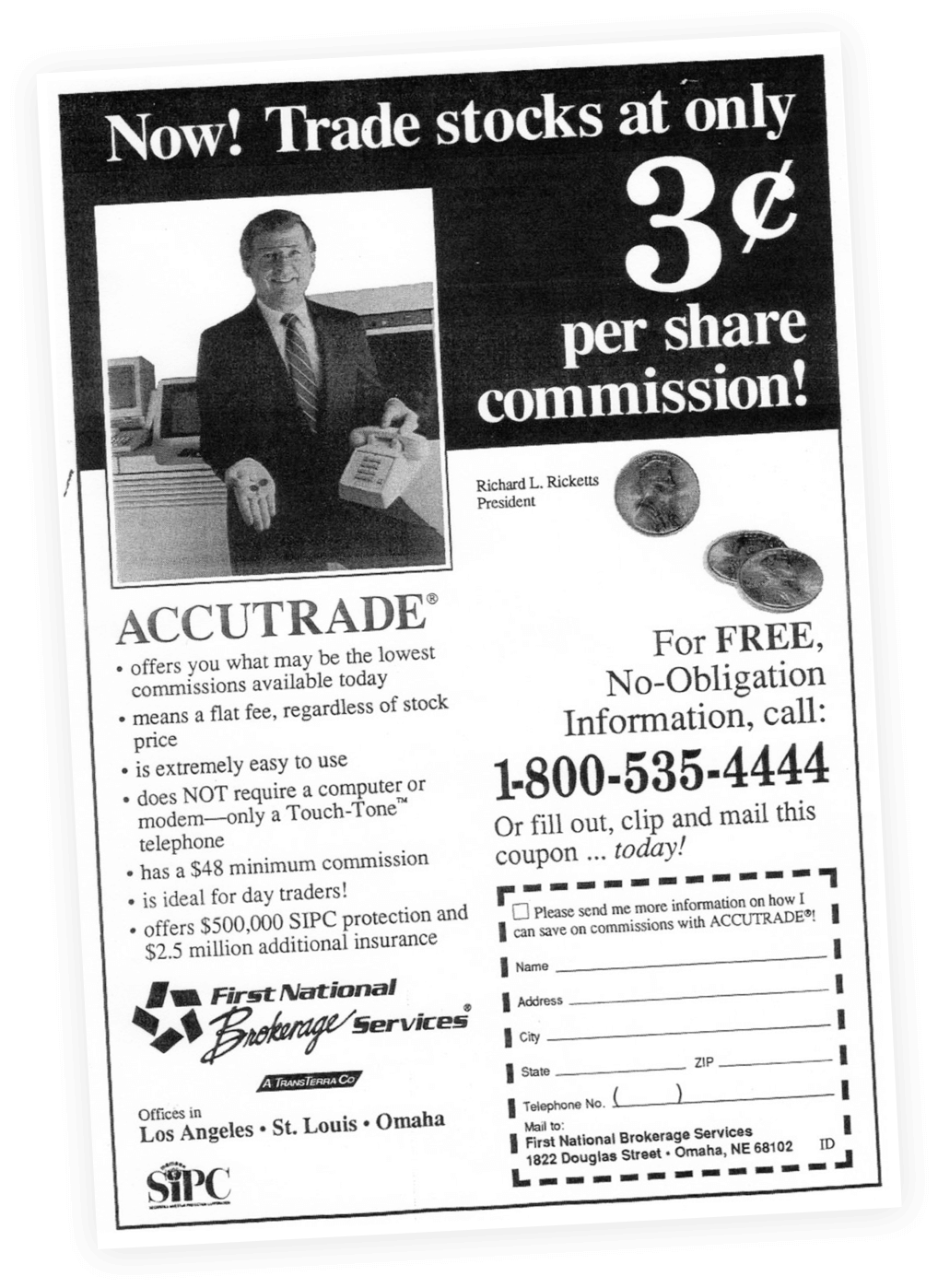 Trading by Touch-tone
Phone, 1985
Our first big marketing success came in 1975 when we offered stock trades for a $25 flat fee to customers who called our toll-free number. But our second big success came in 1985, when we became the first company to offer trading by touch-tone phone – you dialed into our computer and entered your buy or sell information by pressing the buttons on the phone. Here is my brother Dick, showing the world that if you have a touchtone phone, you can call in to make trades for only three pennies per share on our Accutrade system.
In the 1980s, still known as First Omaha Brokerage Services, we moved to a small office space in the Douglas Building, a former Masonic temple. As we grew, we expanded into the corner area that had been a credit union, then later we expanded to take over the entire second floor.  Here you see our front office operations, including (left to right) Dave Grosserode, Mike Bilgere, Dick Ricketts, Chuck Trager, Elton Semke, Bob Carley (in the "bond department"), unknown, Jack Wright, Judy Spears (Moore), and in the upper right-hand corner, Paulette Leighton, the "futures department."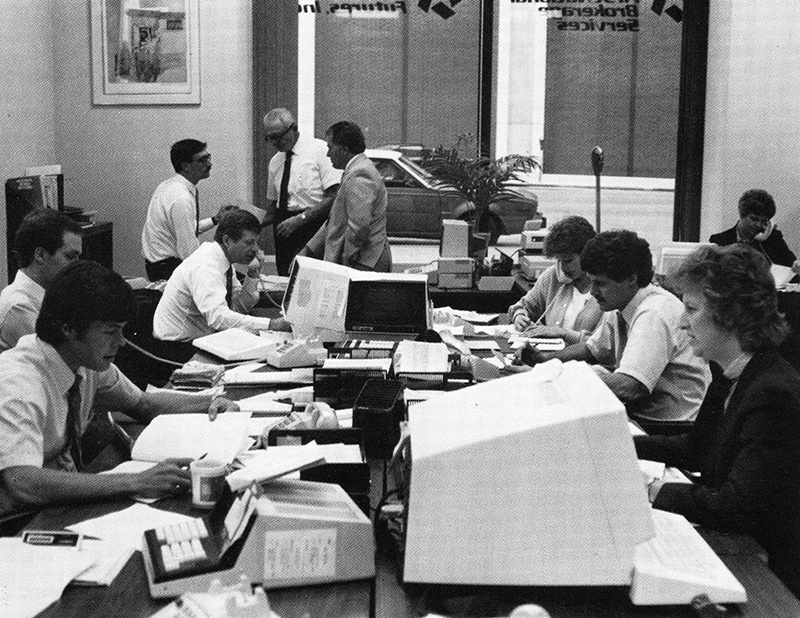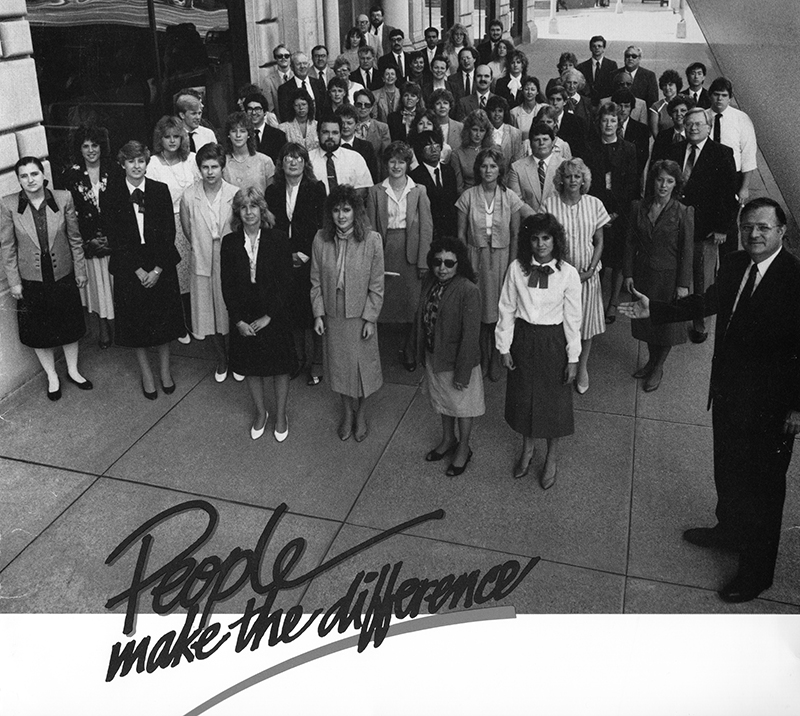 People Make The Difference
One Saturday morning in the mid-1980s, I asked the entire staff to dress for work and pose for this photograph in front of our office at the corner of 19th and Douglas.  I remember I paid everyone two hours of overtime.  The Northwestern Bell building across the street was being sandblasted, so we had some sand blowing in our faces, but we got this great photo of all the current employees who mattered to our success.
The family posing at a Halloween party, October 1995. Although the company was growing fast, we held to our party tradition. Left to right: Marlene Ricketts (nun) Joe Ricketts (nun), Curt Conklin (Hamlet), Pete Ricketts (pirate), who now worked for the company, Todd Ricketts (Robin), and an unidentified bear.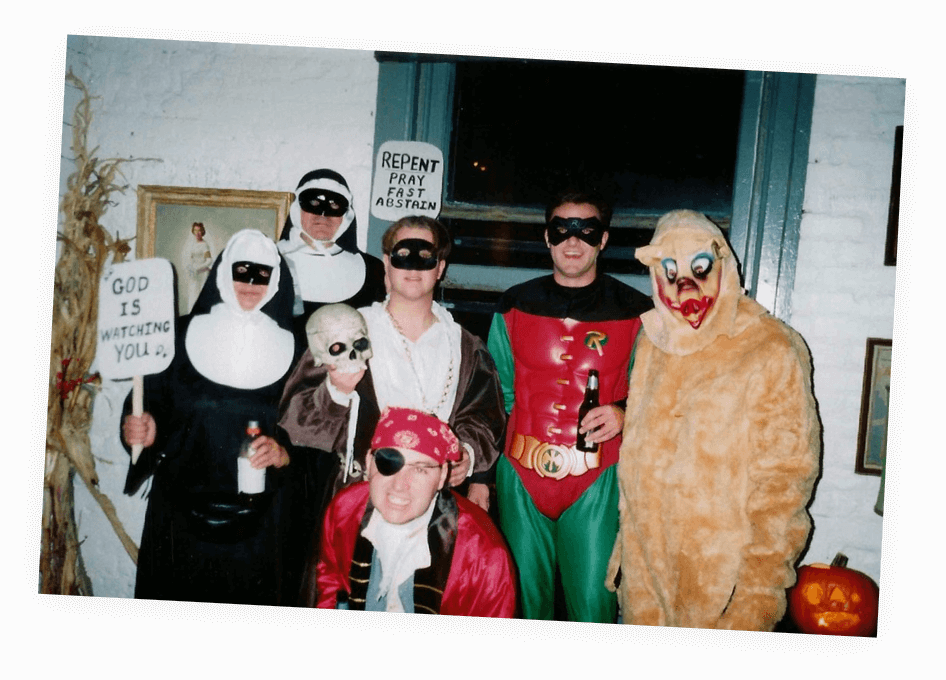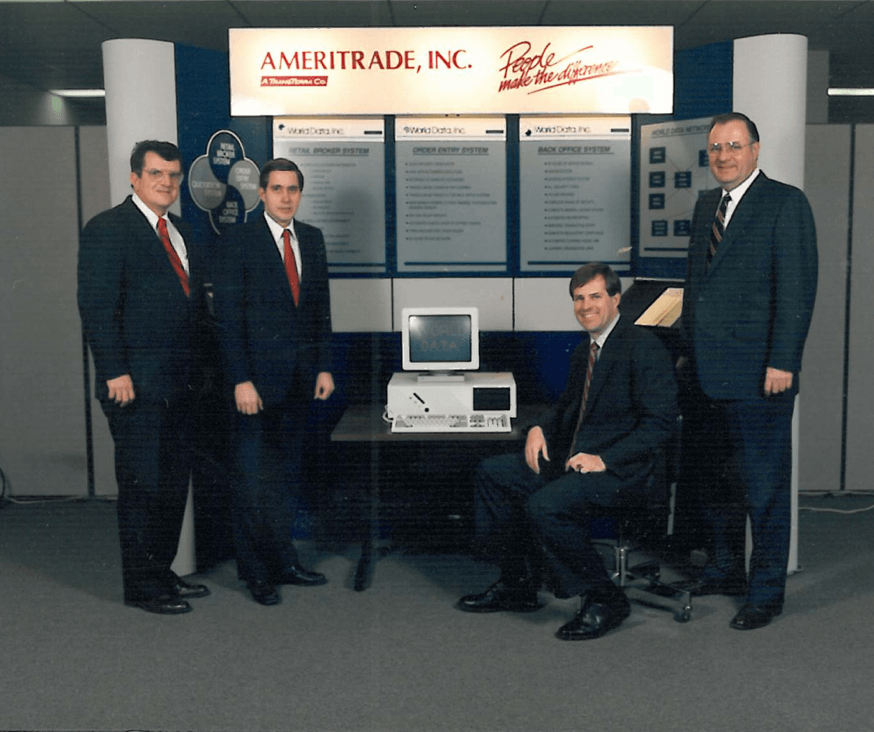 So many products offered over the years…
Tom Pleiss, Larry Collett, my brother Jim Ricketts and I posing with a trade show display for a back-office data system. We tried to sell it to other brokerage firms under the World Data brand in the early 1990s, but I don't believe we ever sold one. There were many so products we offered over the years and so many approaches to marketing that went nowhere – there is no way to know what customers will prefer until you give them the chance to show you. But we all look proud of that shiny new personal computer with its 5 1⁄4" floppy-disk drive.
We spent millions developing Accutrade for Windows, anticipating that this state-of-the-art, PC-resident software would be the most powerful computer-trading method ever offered to the public. However, it was cumbersome to install. We mailed each potential customer this stack of eighteen 3 1⁄2" floppy disks, and the customer had to install the software correctly and then learn to connect their PC to our computers by modem. In comparison, trading on the Web allowed customers to access our computers directly without all the difficult set-up. As so often happens with new technology, the newer, cheaper, more user-friendly upstart disrupted the expensive state-of-the-art.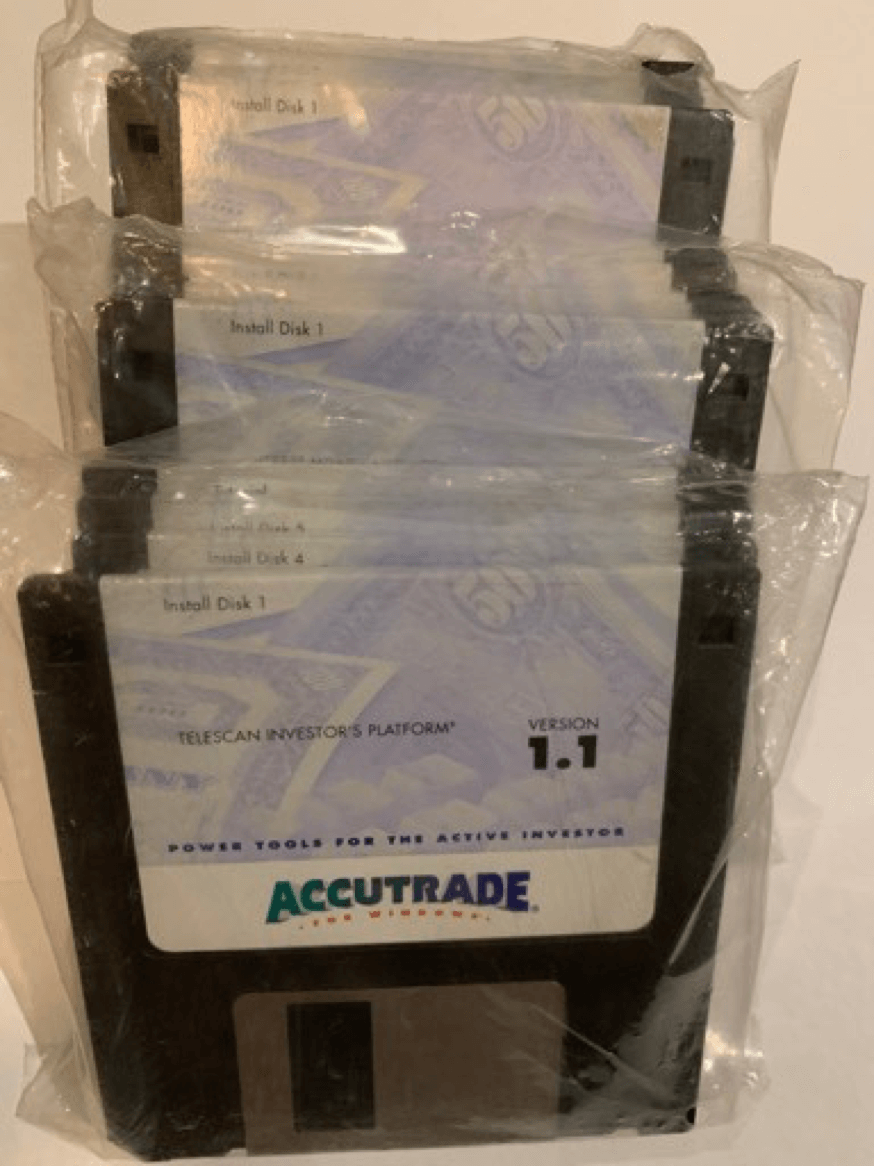 Traveling the country by motorcycle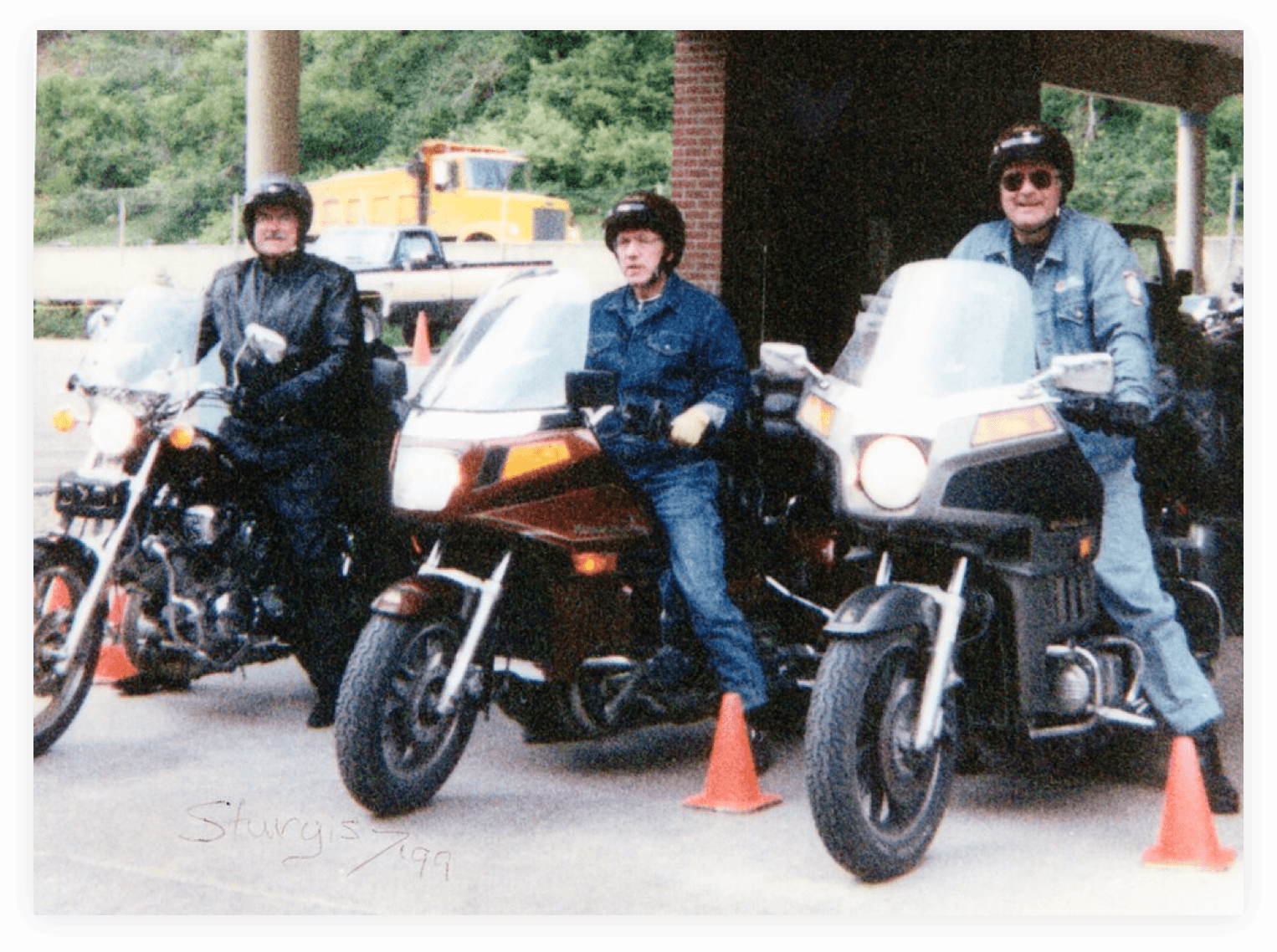 The growing success of Ameritrade in the 1990s gave me the time and the means to discover one of the great loves of my life: traveling the country by motorcycle. Here my high school friends Jerry Gress and Dan Gude and I pose in 1998 on our new Japanese bikes at the start of our first trip to the Sturgis Motorcycle Rally in Sturgis, South Dakota. It rained for the first 300 miles on that trip, and we wondered if biking was really for us, but by the time we got home we were hooked and I bought myself a custom-designed Harley-Davidson.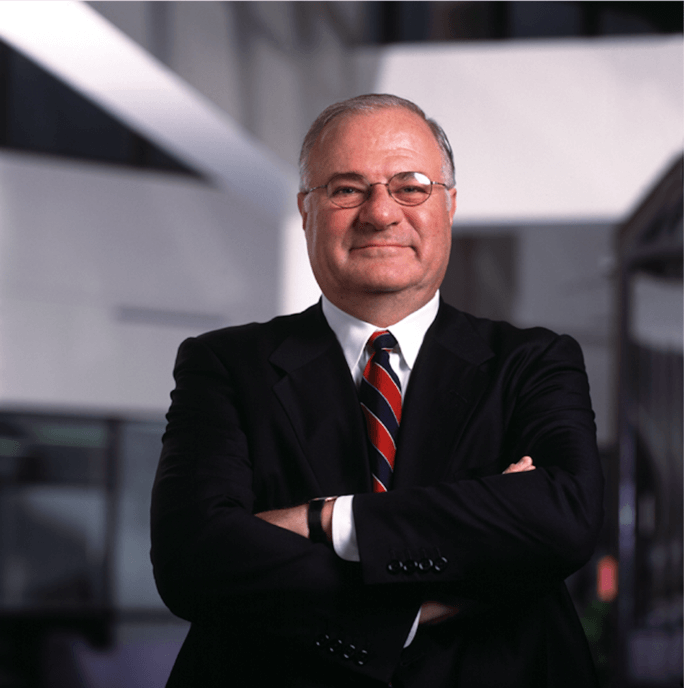 A publicity photo from the early 2000s, taken at the Ameritrade headquarters in Omaha, showing me riding high.
By this point, I owned more than a couple of suits and my pants weren't worn to shiny.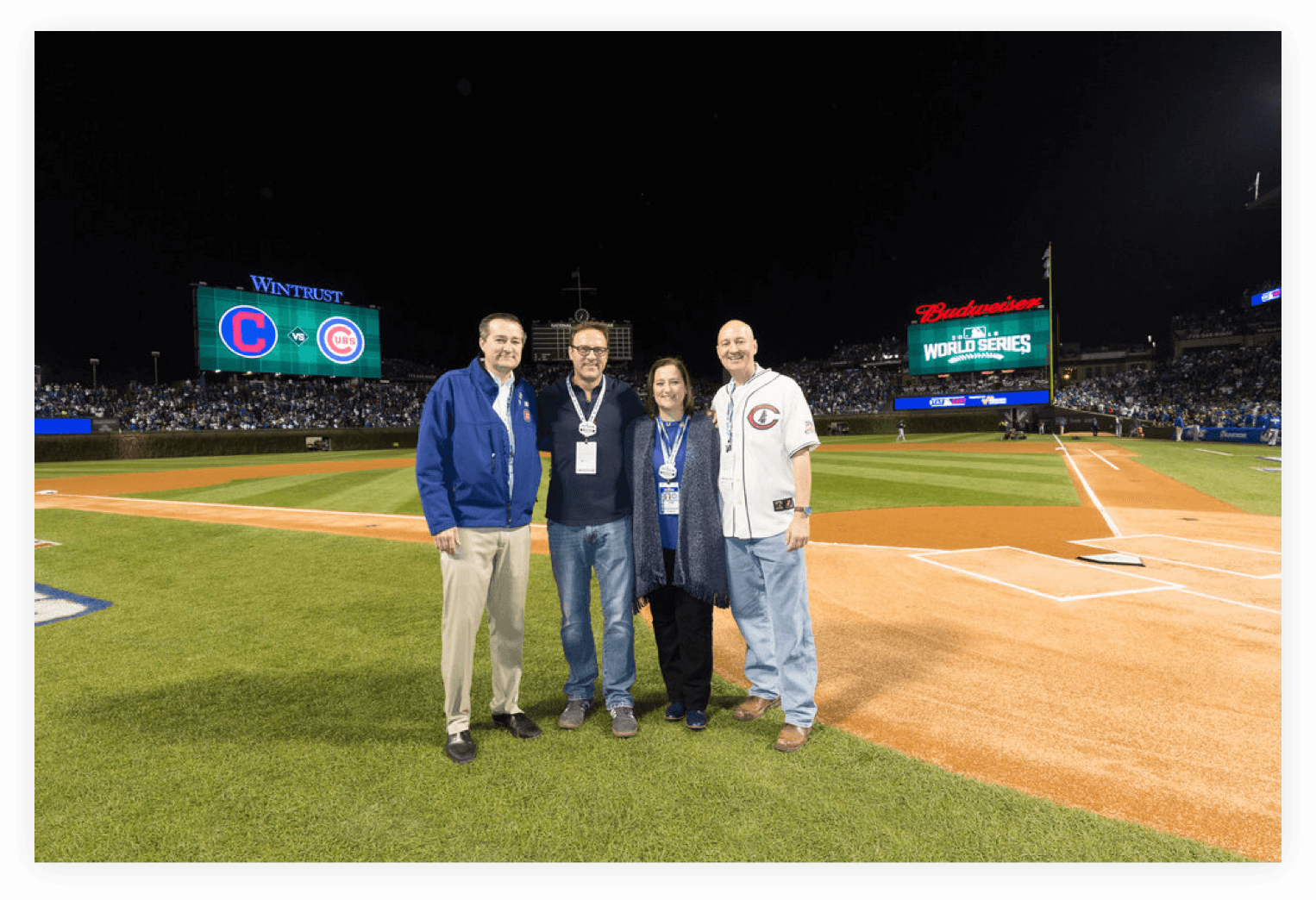 With proceeds from Ameritrade stock, my four children, Tom, Todd, Laura and Pete, purchased the Chicago Cubs in 2009. While I had given up my dream that my children would one day take over Ameritrade and run it after I was gone, Ameritrade earnings made it possible for my four children, posed here at Wrigley Field during the 2016 World Series, to come together to manage a business, keeping in close contact and resolving their differences together, very much as I had hoped.
Having stepped back fully from Ameritrade but remaining always restless to build things, I've focused on philanthropy, including The Ricketts Conservation Foundation, The Ricketts Art Foundation, The Cloisters on the Platte Foundation, and new entrepreneurial endeavors.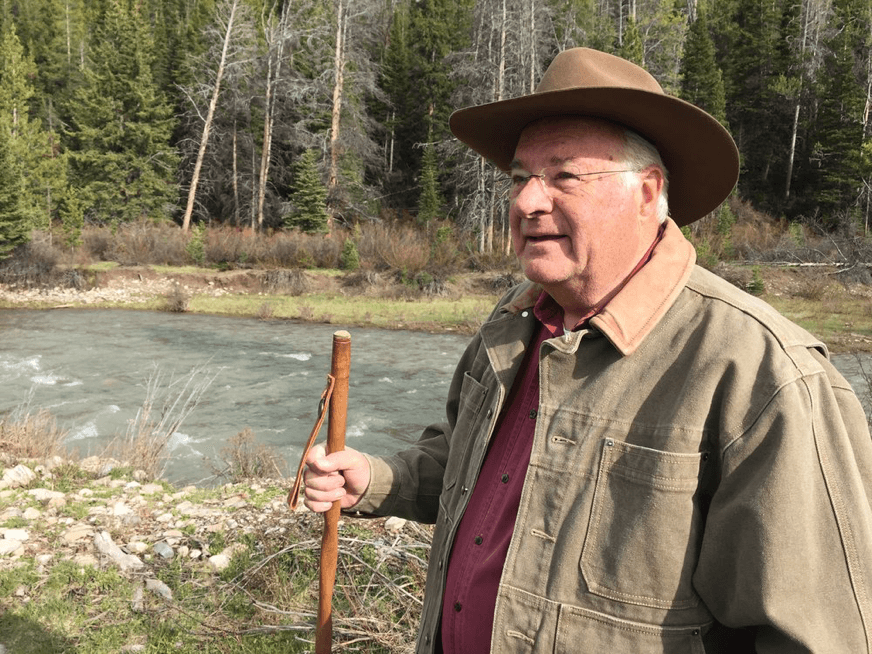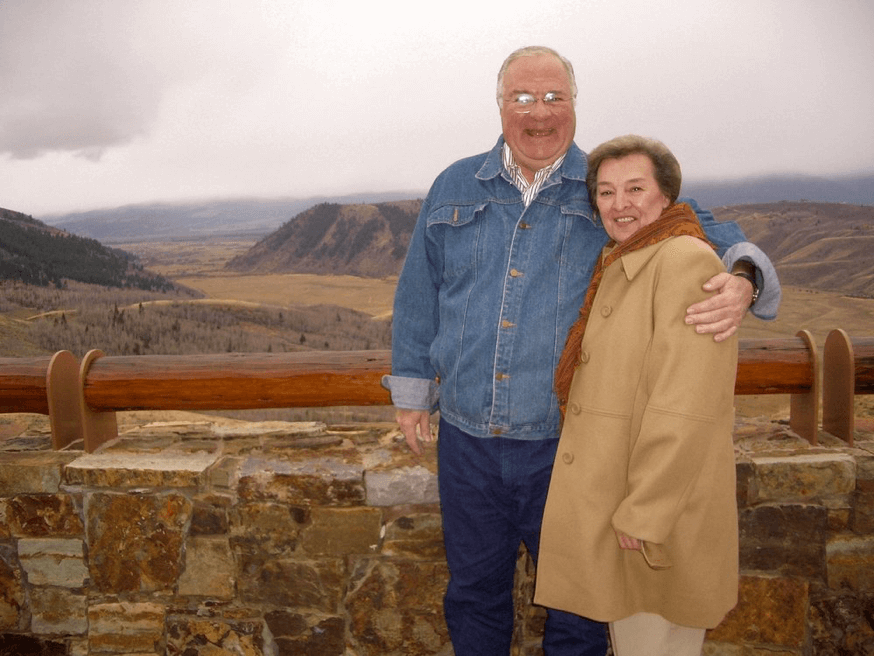 Among my entrepreneurial pursuits after Ameritrade is building a business around bison meat, which makes the most delicious steaks and burgers but has less fat than chicken.
I see a big market opportunity in bison – with the baby boomers aging, there are a lot of people who want to enjoy red meat while also living a healthy lifestyle. Bison!